How An Art Bank Painting Accompanied a Longstanding Career Around the World
By: ArtBank /
12 November 2020
Throughout his career in Canada's Public Service, Jonathan Fried held several distinguished postings around the world. Wherever he went, Marielouise Kreyes' Man III, a painting from the Canada Council Art Bank collection, accompanied him.
The artist, Kreyes, was born in Lobberich, Germany in 1925. She and her husband settled in Winnipeg in 1951, where she studied at the University of Manitoba's School of Fine Arts. While she dabbled in other mediums and styles, she eventually found her niche painting in the realism style with acrylics—as exemplified by Man III. Deeply influenced by Alex Colville, Kreyes' works offer intimate glimpses into daily life, boasting incredible detail, sharp definition and objective viewpoints.

Marielouise Kreyes, Man III (1973)
Now, after twenty years of renting Man III from the Art Bank, Jonathan Fried is taking retirement and making this painting available for others to enjoy through the art rental program.
We interviewed Fried to hear more about his relationship with this special work of art.
How did you discover the Art Bank Rental Program?
Fried: As a public servant, one is surrounded by Art Bank work in various buildings, offices, and conference rooms. And so, I saw pieces of the collection in these spaces almost from the start of my career.
When I had the opportunity to have artwork in my own office, of course, I was initially offered what was already around. But after posing a couple of questions, I came to find out I could visit the Art Bank warehouse where I could browse and choose my own. While there, I went through not only the works that were displayed, but those that were in the storage racks. I spent, I would say, a good couple of hours going through all of the works that were not assigned and were being stored on St. Laurent Boulevard.
Did you know of any works by Marielouise Kreyes previously? What drew you to Man III?
Previously, no. I just found this piece to be remarkably striking and provocative, or thought provoking, and it resonated. I never studied Art History. I appreciate everything from the Dutch masters to Jackson Pollock, and things in between. But I do have a place in my heart for the twentieth century realist school. I just said: "That's very special and I think it would suit me well."
You already had an affinity for works in this realist style then?
Well, yes, I guess! I used to have a paper poster of a painting that I had laminated and mounted for an office that I was in much earlier in my career and it was somewhat similar to Man III. Wistful. Ambiguous. A portrayal of somebody alone. Office in a Small City, is what it's called. A painting by Edward Hopper.
Once installed, what impact did Kreyes' work have on you and on your colleagues?
Of course, once hung, it inspired me. But it also generated comment from all those who came. I suppose as an amateur psychologist, what was most interesting to me was that if someone was an optimist, or they were feeling good, they would read the figure in the painting as being "a professional deep in thought," or "a doctor coming out of surgery," "a lawyer contemplating his case," and so on. However, those more pessimistic individuals would say: "He's a prisoner. He's been locked up and there is no freedom there." It simply spawned all sorts of interesting reactions from the audience.
For more than twenty years, Man III has followed you to office spaces around the world. Did you find that there were different cultural takes on Kreyes' piece?
To some extent, yes. Working on the opposite end of the world, in Japan, for example, there were varying interpretations. In addition, I found people wanting to know more about the artist and her oeuvre, and about Canadian art in general. Everyone seemed puzzled by the way Kreyes chose to name her works.
How did you learn more about the artist?
At a certain point, I phoned the Art Bank and I said: "You know, this painting is so dear to me. And Marielouise is such a special artist. Do you have any records or know where I might find out more?" This being in the days of index cards rather than computers, they didn't have a great deal on file for me aside from the name of a little gallery in Winnipeg. So, I emailed them. They informed me of her passing and kindly provided me with the address of her widower. I wrote to him, telling him how much this painting from his late spouse meant to me, and all those who had seen it, and I asked if he could guide me to where other works of hers might be available.
Did he ever respond to your request?
Thankfully, yes. He said that he was so gratified and that it was wonderful to know where his wife's art has been. And then he said: "If you're interested, I have four of her paintings in my basement that are framed. I'd be willing to sell them and ship them to you." So, he mailed us the 35 mm transparencies and that's when we chose to purchase two of Marielouise Kreyes' paintings for ourselves: Girl at the Amusement Park and the so-called Great Lake. They've since become part of our home and my office as well. Actually, Great Lake, given its colour scheme and size, became a lovely match across the room with Man III.

Marielouise Kreyes, Girl at the Amusement Park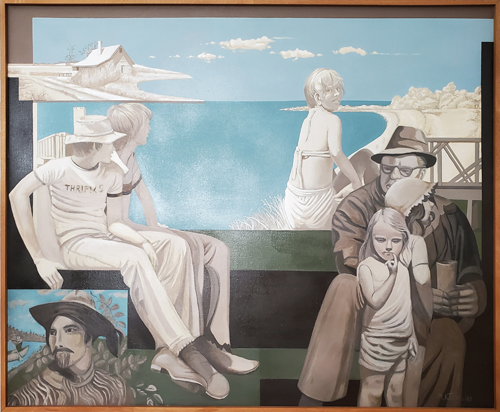 Marielouise Kreyes, Great Lake
Renewing your rental contract with the Art Bank for Man III for so many years must have been an easy decision once your collection of Kreyes' work grew.
Well, yes. It provided continuing inspiration, on a personal level and work related too. It became a friend.
Since you've spent so much time with this piece, will you miss having it around?
Tremendously.
If you'd like to learn more about the Art Bank's Rental Program and how you can make a work from the collection an important part of your life, you can read about the process here: Art Rental Program.
You can also contact us directly: artbank@canadacouncil.ca
About the Author: Eleanore Mackie
Eleanore Mackie is a former Young Canada Works intern who worked with the Art Bank team during the summer of 2019 in partnership with the Inuit Art Foundation. A graduate of the master's program in Art History at Queen's University, she is passionate about creating digital content for arts organizations that is accessible, inclusive, and playful.
back to top