Opening Doors: An Art Bank Purchase Transforms a Young Sculptor's Career
By: ArtBank /
17 August 2022
The path to the Art Bank's 50 years of sharing art is paved with indelible tales of tenacity and vitality—of art purchases that have supported the talents of many Canadians, improved livelihoods and fostered enjoyable moments in the appreciation of art in Canada.
For sculptor Anna Williams, having her work purchased by the Art Bank in 2011 gave her sculpture a life of its own.
"That purchase was almost like creating a public work," she says. "It's not just exhibited once every 20 years, or just sitting in storage in a private collection. Art Bank pieces travel all over Canada and can become a part of so many different people's lives."
Untitled (fawn), a life-size bronze sculpture of an alert baby deer, was acquired by the Art Bank as part of its 2011 call for purchase. It was rented and renewed multiple times, including twice by Supreme Court of Canada's Chief Justice Beverley McLachlin, from 2012 to 2018.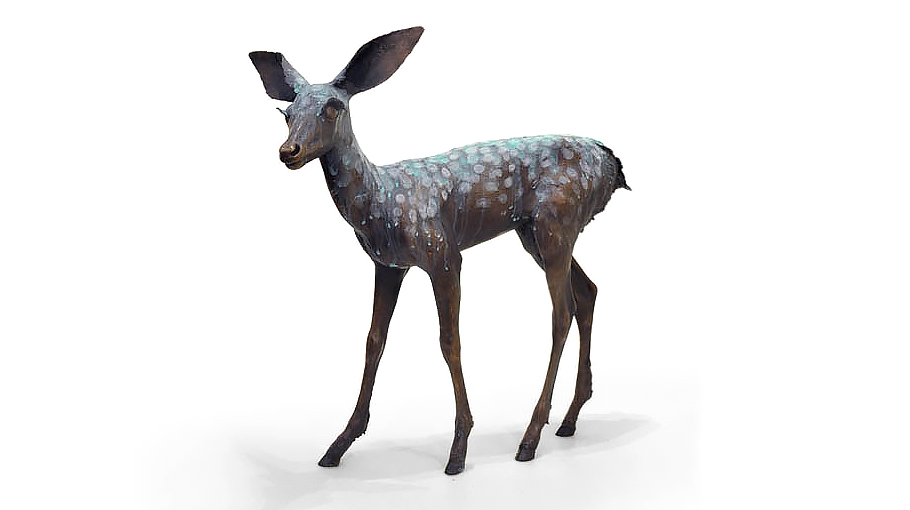 Anna Williams, Untitled (Fawn), 2010, bronze and acrylic paint.
Anna Williams would sometimes see an article with the Chief Justice in a newspaper or magazine and catch a glimpse of her fawn in the background.
"It's very exciting when you spend your days working alone in a studio and then you see your artwork out in the world," she says. "You can just imagine the conversations that that fawn has witnessed."
Breaking the Bank
Williams graduated from Mount Allison University in 2009 and immediately began to work as an independent print artist and sculptor. Two years later, her exhibiting gallery, L.A. Pai, located in Ottawa, alerted her to the Art Bank call for purchase.
Since she was a teenager, "the Art Bank" had been synonymous with a stately institution that oozed gravitas. It had often been at the top of the list at exhibiting artists' big shows and its presence had loomed large in the Canadian art world. "When did I not know about the Art Bank?" she jokes.
So, when the Art Bank informed Williams that it was interested in her work, she was blown away. She still has the letter she received, with its colourful letterhead, stating that the Art Bank would be purchasing her Untitled (fawn) piece.
"It was a big boost to my morale," she says, "and it added a level of professionalism to my practice."
After the purchase, she also came to know the Art Bank as an organization filled with warm and approachable people, who made their art holdings feel very much alive.
"My art took on this feeling of being a living, breathing thing," says Williams. "It wasn't just locked away in an ivory tower. I think that feeling is very comforting to artists."
As an independent artist, Williams says she would sometimes get small grains of validation to counter the many challenges she faced working to live off her art. When the Art Bank bought her piece, however, it was like a tsunami of validation.
"This is something that says, 'Yes, you're on the right track. Keep making work. This has value. People care about what you have to say.' To have that happen to me so early in my career was just phenomenal. That's what gives you the energy to keep going."
Today, Williams is still a working artist and the assistant dominion sculptor for the Government of Canada, where she creates decorative elements as part of the Parliamentary Precinct renovations. Her Untitled (fawn) is currently exhibited at the newly renovated Library of Parliament space, at 180 Wellington Street, in Ottawa.
Her advice to all young artists in Canada is to submit to the Art Bank's new 2022 call for purchase. They should aim to overwhelm the peer assessment committee with applications featuring their strongest work.
"And don't count yourself out," says Williams. "A lot of people might think 'I'm too young. I'm too inexperienced. I haven't been working long enough.' I was fresh out of university. I had a really minimal exhibition history, but they saw the piece and fell in love with it. Because that's all that counts—the work."
back to top